Security and Science Diplomacy
Work Package of the EU Project InSciDe: Inventing a Shared Science Diplomacy for Europe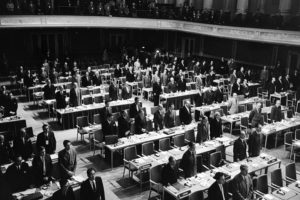 H2020 call ENG-GLOBALLY-01-2017
InsSciDE – Inventing a shared Science Diplomacy for Europe – is an interdisciplinary consortium and stakeholder engagement structure focusing on European science diplomacy. Funded under the Horizon 2020 framework, it engages historians of science and technology, networks of diplomats and scientists, experts of strategy and policy makers to bring science diplomacy into the foreground and better use it.
Professor Maria Rentetzi is the leader of InsSciDE's Work Package 6: Security. Members of the group include Dr. Anna Åberg (Chalmers University of Technology, Gothenburg), Dr. Matthew Adamson (McDaniel College Europe, Budapest),  Professor Alexandros-Andreas Kyrtsis (National and Kapodistrian University of Athens) and Gabriela Radulescu (Friedrich-Alexander Universität Erlangen-Nürnberg).
The European Commission has called for the development of effective science diplomacy for Europe. InsSciDE – Inventing a Shared Science Diplomacy for Europe – responds to this call with a hypothesis: the Member States have a great capital of experience on which they can draw. Domestic and transnational initiatives have long used science in global diplomatic engagements, in a diversity of ways and contexts. But this practice is fragmented, unrecognized, or lacking an overall model that could bring it into view and let it be shared –leveraged and consolidated for Europe. Our project reveals, formalizes and communicates this intangible capital, develops its conceptual bases and elaborates tools to help European science diplomacy emerge and blossom. From first questions to final tools and training, we lead this process from inside science diplomacy – hand-in-hand with its practitioners, potential practitioners and other stakeholders. Those who deploy, direct and benefit from science diplomacy are co-inventors, end-users and ambassadors for the project, accompanied by a consortium associating academic excellence and high competence in stakeholder engagement. An ambitious communication program presents InsSciDE to a broad international audience for feedback, widely disseminates findings and intellectual products, and ensures a legacy.
Photo credit: The first General Conference at the IAEA, 1957, IAEA archives
---