Science and Tech Diplomacy: the new geopolitics of technology – A cross-atlantic discussion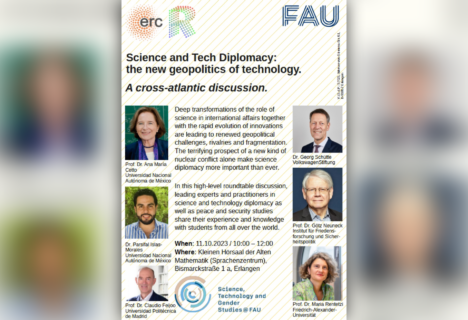 download the flyer here.
As the Russian war in Ukraine has forced the redrawing of the global geopolitical map, national foreign science policies face novel challenges: from climate change and the role of artificial intelligence in all aspects of human life to the reemergence of the nuclear threat and of deadly pandemics.
In this, much needed high-level round-table, leading international experts and practitioners in science and technology diplomacy as well as peace and security studies will discuss the current state of science and innovation in the realm of global politics and give their valuable insights to the concerned public.
!!On-site only!! Language: English.
When: 11/10/2023 / 10:00 – 12:00
Where: Kleinen Hörsaal der Alten Mathematik (Sprachenzentrum), Bismarckstraße 1 a, Erlangen
Entrance (GPS): 49.59977681755708, 11.015789160226428
Moderators
Prof. Dr. Maria Rentetzi (Chair of Science Technology and Gender Studies), Friedrich-Alexander-Universität Erlangen-Nürnberg
Prof. Dr. Claudio Feijoo (Jean Monnet Chair on Technology and Science Diplomacy for European Sovereignty), Universidad Politécnica de Madrid
Panelists:
Dr. Georg Schütte (former Bundesministerium für Bildung und Forschung), General Secretary of the VolkswagenStiftung
Prof. Dr. Ana María Cetto (former IAEA Deputy Director General and Head of the Department of Technical Cooperation), Universidad Nacional Autónoma de México
Dr. Parsifal Islas-Morales (UNESCO Chair on Science Diplomacy and Scientific Heritage), Universidad Nacional Autónoma de México
Prof. Dr. Götz Neuneck (Member of the Council of the "Pugwash Conferences on Science and World Affairs"), Institut für Friedensforschung und Sicherheitspolitik, University of Hamburg